Partners
Gareth Priday
Gareth Priday has a Master in Strategic Foresight and more the 15 years' experience of foresight practice and research. He is the director for Action Foresight. Gareth work draws from a broad range of experience ranging from leading teams on mission-critical foresight, innovation and research projects, founding a national innovation network, launching a start-up and managing on-the-ground research in remote and local communities. Gareth is also a director of the Australian Living Labs Innovation Network. As a future professional example projects include, the foresight development for the Pacific Island forum Secretariats 2050 strategy (18 member nations), a scan of global best governance and foresight practice in unions for the International Labor organization and Training for the Victorian health Departments. Gareth was an advisory board member of the Vitalise-Project Harmonization Board Health and Wellbeing Living Labs standards projects.
José Ramos
Dr. Jose Ramos is an action researcher, futurist and social innovator with a focus on the commons. His work uses vision driven social experimentation, anticipatory governance and participatory futures. He has over 25 years experience as an advocate, writer and organiser, which includes ethnographic study of alternative globalizations and sustainable development pathways, writings on collaborative planetary governance, and research on applied foresight and social change. He is the director for Action Foresight, a boutique futures practice; co-editor of the Journal of Futures Studies; and is co-founder of the Participatory Futures Global Swarm. He holds a PhD from Queensland University of Technology in critical globalization studies, winning their award for outstanding doctoral thesis, an MS in Strategic Foresight from Swinburne University of Technology, and a BA in Comparative Lit. from the University of California Irvine. He has published over 80 articles, chapters, papers and reports in various journals and magazines. He has taught and lectured on futures studies, public policy and social innovation at a number of universities: the National University of Singapore (Lee Kuan Yee School of Public Policy), Swinburne University of Technology (Australia), Leuphana University (Germany), the University of the Sunshine Coast (Australia) and Victoria University (Australia). He is of Mexican descent, born in Oakland Ca,, growing up in the very multi-cultural suburb of Whittier in Los Angeles. He has lived in Japan, Taiwan, Spain, Singapore and Germany. He lives in central Victoria near Melbourne, Australia with his wife, De Chantal and their two children, son Ethan and daughter Rafaela.
Collaborators
Dr. Karla Paniagua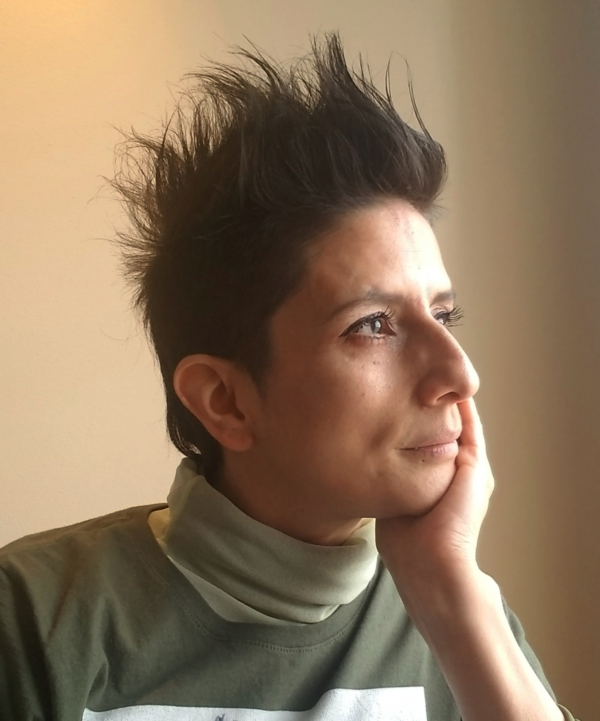 Dr. Karla Paniagua holds a doctorate in Transdisciplinary Cultural Studies and a Master in Social Anthropology. She has more than 20 years of experience as an analyst of cultural practices. For the last decade she has directed the graduate program in Futures Studies at CENTRO (Mexico City), where she is also co-editor-in-chief of the journal Economía Creativa. She is a national researcher for CONAHCYT and TEDx Speaker. Since 2023, she leads the UNESCO Chair in Design Methods for Democratic Access to Futures Imagination. As a researcher, she has created and developed projects for the design of public policies on Creative Economy, the ideation of alternative scenarios for different cities and countries; she has also created different brands of learning experiences, such as Microdosis, Póker de habilidades para el futuro, Tenkuä, Itakatl, Tierra incógnita, among others. As a futures studies professional, she has led projects for the strategic planning of organizations such as Wings (U.S.), Pies Descalzos (Colombia), Departamento Nacional de Planeación (Colombia), Tell (Colombia), SURA (Mexico); as well as for the design of public policies for the government of the state of Nuevo León (Mexico); the design of alternative futures scenarios for Mexico City for the magazine Chilango (Mexico), among others.
Reanna Browne
Reanna holds MA Strategic Foresight (Swinburne) – Finalist Swinburne Postgraduate Medal • Grad Cert Futures (University of the Sunshine Coast) – Dean's Award for Academic Excellence. Reanna is an academically trained and practicing futurist with experience and education spanning business and workforce futures + strategy and organisational design and development. Reanna has been a consulting and 'inhouse' futurist for the last six years, working with a global client based across public, private and start-up sectors. In addition to cofounding her own start-up, Reanna has also worked as an executive in a global start-up, and in a range of senior public sector roles across both state and federal settings.
Dr. John Sweeney
John Sweeney is a futurist, designer, and author, with extensive experience utilizing participatory / experiential methods with a particular focus on gaming. My work has been focused on applying futures and foresight in the Asia-Pacific, Central Asian, & Eastern European regions. I've organized and facilitated strategic planning and foresight projects for a range of clients, including numerous humanitarian and development agencies, government innovation units, and Fortune 500 companies, and delivered keynote presentations, seminars, and training courses in over 45 countries on five continents. I currently serves as Co-Editor in Chief of the World Futures Review with Dr. Nur Anisah Abdullah. I have a PhD in Political Science from the University of Hawaii, Manoa.
Dr. Anisah Abdullah
Dr. Anisah Abdullah gained post graduate degrees in management and operational research (OR) from Putra Graduate School, Malaysia and University of Strathclyde, Glasgow respectively. Prior to joining Tamkang University, Taiwan in 2020, she held lectureships in the International MBA Unit at the Strathclyde Business School, Hamdan Bin Muhammad Smart University, Dubai; and International Islamic University Malaysia. Anisah's keen interest in Foresight and Futures Studies is evident in her recent completion and publication of two commissioned studies: "Learning Futures Studies Collaboratively," a study undertaken for the Ministry of Education Taiwan 2022, and "Navigating Possible Futures: A Comparative Study," commissioned by the Prince Muhammad Fahd Center for Futures Studies in Saudi Arabia 2022. Anisah's dedication to public sector consulting is marked by three notable projects: Our Futures: By the people, for the people (Nov 2019, NESTA UK), Malaysia's Global Reach, futures of higher (2011-2014), Developing a Balanced Scorecard, the Employee Provident Fund Malaysia (2011), and Performance Measurement in British Central Government (PhD research, 2005-2009). Currently, she serves as the managing editor for the Journal of Futures Studies, demonstrating her ongoing commitment to the field.
Dr. Julius Gatune
Dr. Julius Gatune holds a Ph. D in Policy Analysis for the Pardee RAND Graduate School in California USA, and Masters in Computer Science from the University of Cambridge, UK. He also holds a Bachelor of Science in Civil Engineering (First Class Honors) and an MBA from the University of Nairobi, Kenya. He is the UNESCO Chair of Future Literacy Laboratory at Dedan Kimathi University of Science and Technology (DeKUT). His is also a Senior Project Consultant with the Maastricht School of Management (MSM), Netherlands. He is also a Senior Policy Advisor/Expert with the African Centre for Economic Transformation (ACET). Dr Gatune has previously worked at McKinsey & Co as a management consultant (at Johannesburg South Africa office). He also worked at the Frederick S. Pardee Centre for Study Longer Range Futures at Boston University and the Frederick S Pardee Centre for International Futures at the University of Denver working on a number of projects that that explored the drivers of futures of Africa. He is an editor with the Journal of Future Studies. He was also part of the World Economic Forum Global Strategic Foresight Community (GFSC) that help shape the agenda on emerging issues that should be part of the global policy agenda for 2015 WEF Davos Summit. Julius Gatune has been involved in a number of foresight studies.
Dr. Jayarethanam Pillai
Jayarethanam (Jaya) is currently a Lead Data Scientist and Economist. In addition, he is the Chief Innovation and Data Science Officer in his start-up consultancy and offers regional expertise in providing analytical and data science work for companies and government agencies alike, particularly specializing in developing strategic decisions using economics, data analytics, and AI. Jaya has done over 20 analytics-related projects and widely published papers in economic policy, digital transformation, and entrepreneurship while working and living in 11 international cities/states. He has expert-level advisory experience in the application of data analytics in embedded analytical operation systems specifically in panel data and supervised and unsupervised machine learning. He has a keen interest in the application of AI in digital transformation. His thirst for developing machine learning and econometric modeling to identify and offer solutions for decision-making puts him among some of the key regional intellectuals in the field of digital transformation. As a testimony, he attracted private sector funding, in setting up the 'Futuristic Intelligence Institute (FII)' at the American University of Central Asia, in Bishkek, Kyrgyzstan, with the aim of pushing the research, teaching, and application of Data Science and AI in the region. Jaya obtained his Ph.D. in Public Policy and Economics, a Master of Economics, and a Graduate Certificate in Data Science, in the course of doing his analytical gigs.
Mel Rumble
Mel a Sydney-based futures designer, futures researcher and UX/digital producer with a background in futures, design, strategic foresight, environmental education and science communication.
She's an Associate at Little Owl, an ethical tech consultancy, design studio and miniature startup incubator, and the Founder of Reframeable.
She's also a Casual Academic/Tutor/Mentor in the Faculty of Transdisciplinary Innovation (FTDI) at UTS, where I've recently taught into several foresight and futures-focused subjects including Envisioning Futures, Making Futures and Past, Present, Future of Innovation. I'm part of a team within FTDI that recently ran several of these subjects online to large numbers of students (most recently, to 250 students) after a Covid-induced rapid pivot to remote learning.
She's recently embarked on an exciting collaboration with Claire Marshall of IfLabs, working on the next stage of the Museum of Futures. This has included the co-design and co-delivery of Futures Worth Wanting, a workshop in responsible innovation and futures prototyping for the 2020 Sydney Festival. We have also recently received a grant from the City of Sydney for a new Museum of Futures exhibition called Museum of Futures: Pandemic Pivots, which will bring artists and communities together to collaboratively co-design the futures they want amidst the Covid-19 pandemic.
She graduated with a Master of Strategic Foresight at Swinburne University of Technology in December 2018, and was awarded the prize for the highest achieving graduate in the Master of Strategic Foresight granted in 2018.
Her futures practice operates at the intersection of human-centred design, foresight/futures and systems thinking to help organisations and communities shape the futures they want, by design. She's passionate about using foresight/futuring, design, collaborative and systems methods to co-design environments that catalyse the emergence of regenerative, flourishing, just and inclusive futures.